Professional copywriting services and marketing communications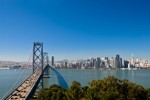 Back in 1999, Silicon Valley was buzzing about websites and Internet marketing–the most powerful, far-reaching and interactive marketing and sales tool ever known. Early companies like Lycos and iVillage were on the hunt for venture capital. Being tech people, professional copywriting services and marketing communications were not their strong suit.
Brenda was teaching English and known as a grammar stickler by students and staff. Word of mouth spread and soon she was copy editing venture capital proposals. Once these early start ups received investment funding, they turned to Brenda again to write website copy and media announcements. She left education and founded Write Essentials in 2000, then relocated to Kansas City, Missouri in 2002.
There was no content marketing bandwagon for Write Essentials to jump on in those early years. There were no best practices at the time. Writing website copy was hit or miss. But even then, Write Essentials developed website and marketing copy that focused more on the site visitors' needs, and less on company back patting.
Over the years other professional copywriting services and marketing communication firms locked on to "trends du jour" and were left behind when new channels like social media emerged. Write Essentials stayed true to the one constant in marketing—human behavior.
Sure, search engine rankings and other factors impact sales. But buyers are people. We write for humans no matter if the project is a website, press release or blog post, direct mail sales letter or ghostwriting a magazine or journal article.
We work with both small businesses and global corporations, understanding your business, your products and your customers. We deliver big advertising agency quality marketing content without the agency overhead. And that makes Write Essentials the right choice for professional copywriting services and marketing communications.
Contact Write Essentials to discuss how to make your website copy effective or content marketing more efficient.