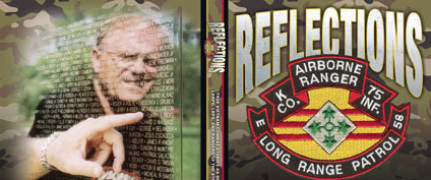 Ghostwriting for Ranger memoirs
E-58 LRRPs and K-75 Ranger Vietnam veterans held their 40th anniversary reunion in Kansas City. The company's captain, Reuben H. Siverling, chose Write Essentials to ghostwrite and edit a commemorative collection of personal histories and photos for the men. During 3 months of collecting memoirs, 40-year old photos, history, and emails, the "small" collection turned into a 227-page book that was professionally bound in hard and soft cover, distributed to attendees and sold nationwide.
The project included:
Collecting, organizing and editing veteran-submitted stories
Scanning and preparing hundreds of 4-decade old photos for print
Design and layout
After working with these men to chronicle their experiences, I volunteered at their reunion. The response to the book was overwhelming. I was proud to play a role in putting their stories and photos in print to pass down to loved ones.
"I receive personal written and verbal accolades daily from laymen and highly skilled professionals for the just released book Reflections. This book was compiled by Brenda and me in the relatively short period of less than six months and is now distributed throughout the nation by the brave Vietnam veterans who lived and shared their stories. These accolades are the direct result of Brenda's editing and writing skills and her 'above and beyond' commitment to outrageously professional service.
I do realize that an abundance of superlatives about an individual can appear to be an over inflated recommendation or referral. Without hesitation, I recommend Brenda's services to even the most highly skilled and accomplished writers. I will continue to employ Brenda's services and counsel for the one or two day projects as well as any extremely intense project that may take weeks or months to develop and present."
Reuben H. Siverling
75th Ranger Regiment Association, Inc.