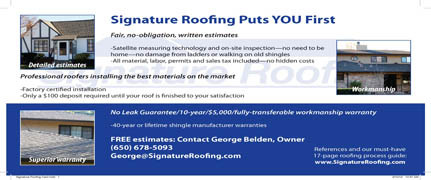 Direct mail sales letter writing for a CA roofing company
George was ready to grow his roofing business. We revamped all of the company's direct mail and marketing pieces to position Signature apart from other sometimes shady roofers. The copywriting uses the owner's tone and voice to instill credibility.
Direct mail project included copywriting, design and digital printing.
The entire marketing campaign included writing sales letters and follow up letters, website design, website copywriting, editing and layout for a 17-page roofing guide.