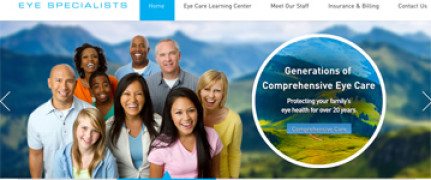 Website copywriting for a family eye care clinic
Northland Eye Specialists is a well-known family eye care clinic whose doctors are among the best ophthalmologists in the area. The doctors focus their practice on comprehensive family eye care in every stage of life. Their new website copy is patient-driven and covers routine eye care, surgical procedures, treating eye disease, cosmetic procedures and the importance of eye care on general health. The copy's tone is warm and friendly, but informative and professional. The goal was to make site visitors instantly comfortable with the clinic and the doctors.
Website design by EAG.