Need more social media buzz? Add professional blog writing to your marketing mix.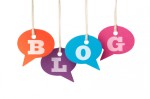 Social media has made blog writing just as important to connecting with customers as your contact form. And like your website copy, your blog posts need to interest your audience and be optimized for search engines.
Blog writing must be consistent to be effective, from how often you post to the writing style. Write Essentials is the perfect solution when you don't have the time or resources to write your own blog posts.
Here's our blog writing approach:
•  Your goals, readers and company's expertise drive the content and tone
•  Keywords, point of view and areas of interest are determined to pinpoint the message
•  Blog posts are delivered ready for your review, approval and then posted to your website and social media links
Just starting a blog? Need a break from blog writing? Your in-house blog writer is on vacation? We're flexible. We can write a few posts or handle all of your blog writing on a weekly or monthly basis.